The Restaurant by Caesarstone & Tom Dixon consisted of four conceptual kitchens and dining halls inspired by the elements - Air, Water, Earth and Fire. The food concept and menu was curated by food design studio Arabeschi di Latte. Set within the ideal backdrop of a 17th century Cloister encircling a public garden and a deconsecrated church, each of the four sections of the cruciform-shaped complex introduced a different range of Caesarstone's designs. Demonstrating the versatility and beauty of the Caesarstone surfaces, combined with Tom Dixon-designed dining halls and products, each kitchen featured a variety of colours and materials that complement the mood and atmosphere of each specific element.
The EARTH kitchen, inspired by the ancient Roman aqueducts, incorporated earthy brown tones of selected Caesarstone designs including light mushroom colored Tuscan Dawn and Concetto Albero, made from assembled segments of petrified wood. The food was prepared by adopting an ancient European vegetable cooking method that utilizes hay to enhance the natural flavours of the products. The FIRE kitchen was inspired by charred wood and smoke, using blackened beams and hints of gold in combination with Caesarstone's dramatic blacks and dark greys: Vanilla Noir, Raven and Coastal Grey. The food - smoked, seared and burned - completed the conceptual experience. The WATER kitchen reflects the jagged edges of frozen ice and has been interpreted using a spectrum of Caesarstone grey and white tonalities. Varying from steaming to freezing, the kitchen experiments with the material by subjecting it to extreme temperatures. Inspired by urban architecture, the AIR kitchen was created with thin, vertically-placed Caesarstone slabs and cut-outs that serve as cooking counters. Caesarstone's Raw Concrete and Noble Grey create an urban, light background for the completion of the culinary experience - the dessert bar.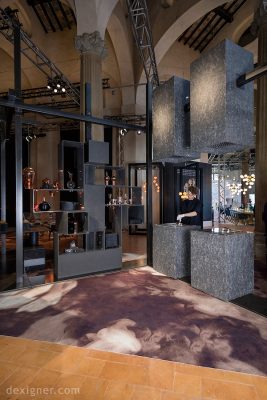 "In Milan this year, we wanted to collaborate with Caesarstone to inspire architects and designers through a radical interpretation of how food and surfaces can interact in different ways, delivering a food experience that challenges all the senses in an exercise of materiality, luminosity and texture," Dixon commented. "Reflecting on the four medieval elements, we have created totally distinctive smells, tastes and visual experiences within each room."