Kristalia has unveiled its new chair LP, designed by LucidiPevere.
https://player.vimeo.com/video/161060397?player_id=v161060397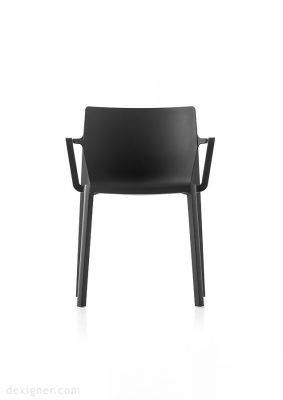 Why is this new chair from Kristalia called LP? Perhaps because it is intended to last a long time, like an LP record, or because it is the result of a Logical Process. Since it is for the general public, it is not a Limited Production. Therefore, it is accessible and does not require a Login/Password. Although it has refined aesthetic appeal, it is not at all pretentious; on the contrary, it is rather Low Profile. It has been made to last a long time, like a Life Policy. Moreover, it has a dynamic, slim line, with no added fat or sugar but with all the right calories: virtually Low Protein. Its ideal is absolute freedom: if it were a politician, it would be a Liberal Party leader. If you are tired and feel a little Low Powered, you can sit on it. Alternatively, if you are full of energy, you can get up and say "Let's Play!" It is ready in its Launch Position.. 3,2,1 go!